Will Meta Platforms Stock Recover?
Meta Platforms (META) is the one tech stock that I'm currently most bearish on. I wrote a Meta Platforms article on SeekingAlpha in April 2022 telling my readers to sell META stock because the company is no longer the "King" of social media. 
Will Meta Stock Ever Recover?
I believe the worst has yet to come for Meta Platforms.  Sheryl Sandberg, a 14-year veteran at the company, stepped down from her COO role as well. 
Meta went against the 1st amendment and banned controversial social media icon, Andrew Tate, from all of its social media platforms.
Meta is making a huge bet on the Metaverse to save the company's bottom line. I don't think Meta stock will ever return to its previous highs like before.
Andrew Tate Ban Explains Why Meta is Struggling
I'm well aware of Andrew Tate and his extremely conservative viewpoints on society, women, leadership, masculinity, and the overall state of western society.
I am neither supporting nor against Tate's views on the aforementioned topics but I do believe in America's first amendment of free speech.
Meta Platforms banned Tate on August 20th 2022, which signaled that the company is desperate to appeal its liberal userbase no matter what.
In response, Andrew Tate caused a surge in activity on alt social networks such as Rumble and Truth Social.
I think more Meta users will defect to other sites such as Rumble in search of free speech that aligns with America's Bill of Rights.
Meta's Fundamentals are Struggling
Q2 2022 was a disaster for the company. Net income dropped 36% YoY while EPS dropped 32% YoY.
While Family DUAs did increase 4% YoY, I wonder just how many of these accounts are legit instead of bots. Elon Musk shined an important light on the social media industry with his attack on Twitter bot accounts.
It's hard to gauge if Meta is growing its DUAs on an ethical basis. Bot traffic is a huge growing problem on social media networks.
What's the point of holding META shares if EPS continues falling like a rock? Lower ad revenue will only make things worse.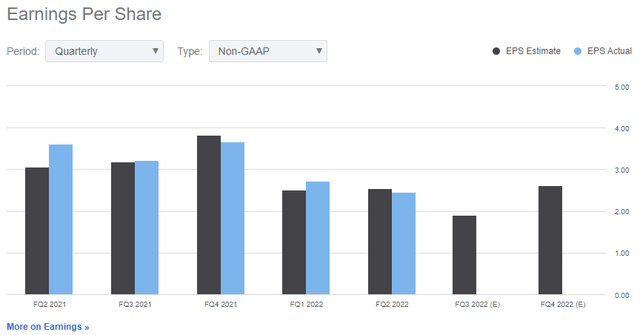 Meta Platforms is still lagging behind Tiktok in terms of growth and wants to desperately monetize its free user base based on recent news.
As a blogger and internet marketer, I can tell you that RPMs are significantly lower for ad networks and publishers. That means Meta Platforms will experience a big revenue loss in the short run so management is getting desperate to prevent further net income declines.
Meta's attempt to monetize its apps with memberships is the waving of the red flag.
Cash on hand fell to $12.6 billion in Q2 2022 from over $16 billion in Q4 2021. Less cash on its balance sheet and lower EPS make META an extremely risky bet right now.
Meta CEO Mark Zuckerberg announced a hiring freeze to cut costs, signaling that the former social media king has been crushed by the industry-wide advertising slowdown.
This makes Meta a risky bet right now due to the company's major dependence on eyeballs to generate advertising revenue.
SandBerg's Exit Was Brilliantly Executed
It looks like Sheryl Sandberg had a crystal ball when she stepped down from her Meta Platforms executive COO position in June 2022.
Advertisement
Fees:

$0 (65 cents per options contract)

Promotion:

Up to $600 in Transfer Bonuses

Promotion:

Up to 12 free stocks valued $30,600
The fun is over and I believe Meta will enter the dustbin of once-great internet companies as we move closer to 2030.
The company's only hope is Reality Labs because I am extremely bullish on the metaverse. Unfortunately, Reality Labs is a major cash burn and won't see any positive EBITDA for quite some time.
Meta's Products May Be a Time Waster
At the end of the day, Meta is a net negative company that causes far more harm to humanity than good.
I witness the ramifications of its products every day as I watch human beings staring at their phones in public while aimlessly scrolling through Facebook and Whatsapp conversations. Humans have been dehumanized and reduced to mere photos on a smartphone screen.
Too many people waste precious time on Facebook, Instagram, and Whatsapp that could be spent on more important activities such as preparing healthy meals, spending in-person time with friends and family, working on meaningful projects, or exercising.
I made a bold move and deleted Facebook, Instagram, and WhatsApp from my phone. I have more free time now because I was wasting a couple of hours a day trolling Meta applications.
I only use Facebook to share my articles on various Facebook groups. I stopped chatting with friends and scrolling through my Facebook feed.
Sam Ovens posted a great video explaining how social media is a distraction and should be used sparingly.
Risk Factors
I'm always bearish on Meta Platforms and will continue my stance until I see a major change in the company.
However, there are several risk factors that could prove my analysis to be wrong.
Meta Platforms embraces free speech and allows an open discussion of values and morals on its platforms
Advertising RPMs improve and Meta is able to monetize its userbase
Tiktok's popularity fades and Meta becomes the top social media app once again
Mark Zuckerberg either steps down as CEO or acknowledges that he is no longer a social media leader but a mere follower
It will be interesting to see if advertising budgets improve as we near the holiday season. Many companies spend a ton of money on advertising to drive sales during Q4.
Meta needs a big shift in ad revenue because EPS has remained flat over the past 2 quarters.
Inflation has negatively affected the entire ad industry and many companies may not spend as much money in Q4. If Meta doesn't impress investors during its Q3 earnings calls then I believe META shares will continue their downward spiral toward $100.
Conclusion
As a long-term investor, I avoid companies like Meta like the plague because they don't add any long-term value to shareholders or society.
Much of its cash was made in the past and I believe the company will struggle to grow revenue in the future.
I could be wrong but there are far better tech stocks such as Apple (AAPL), Tesla (TSLA), or Amazon (AMZN) that provide real products and services.