5 Stocks to Watch for August 16, 2022
Want to receive this e-mail every weekday before market open? Subscribe Here
What a day Monday was. BBBY ripped 23% and hit as high as $17 during intraday trading. Mainstream media and Jim Cramer have been attacking the stock in an attempt to force the price down.
Remember this: The shorts are losing a lot of money and need the price to come down to cover their borrowed shares. BBBY short interest is over 50% and there are no more shares available to borrow.
The next 2 weeks will be epic so don't get discouraged by pundits such as Cramer. They work for the hedge funds and will do anything to protect their backers.
Earnings Calendar for This Week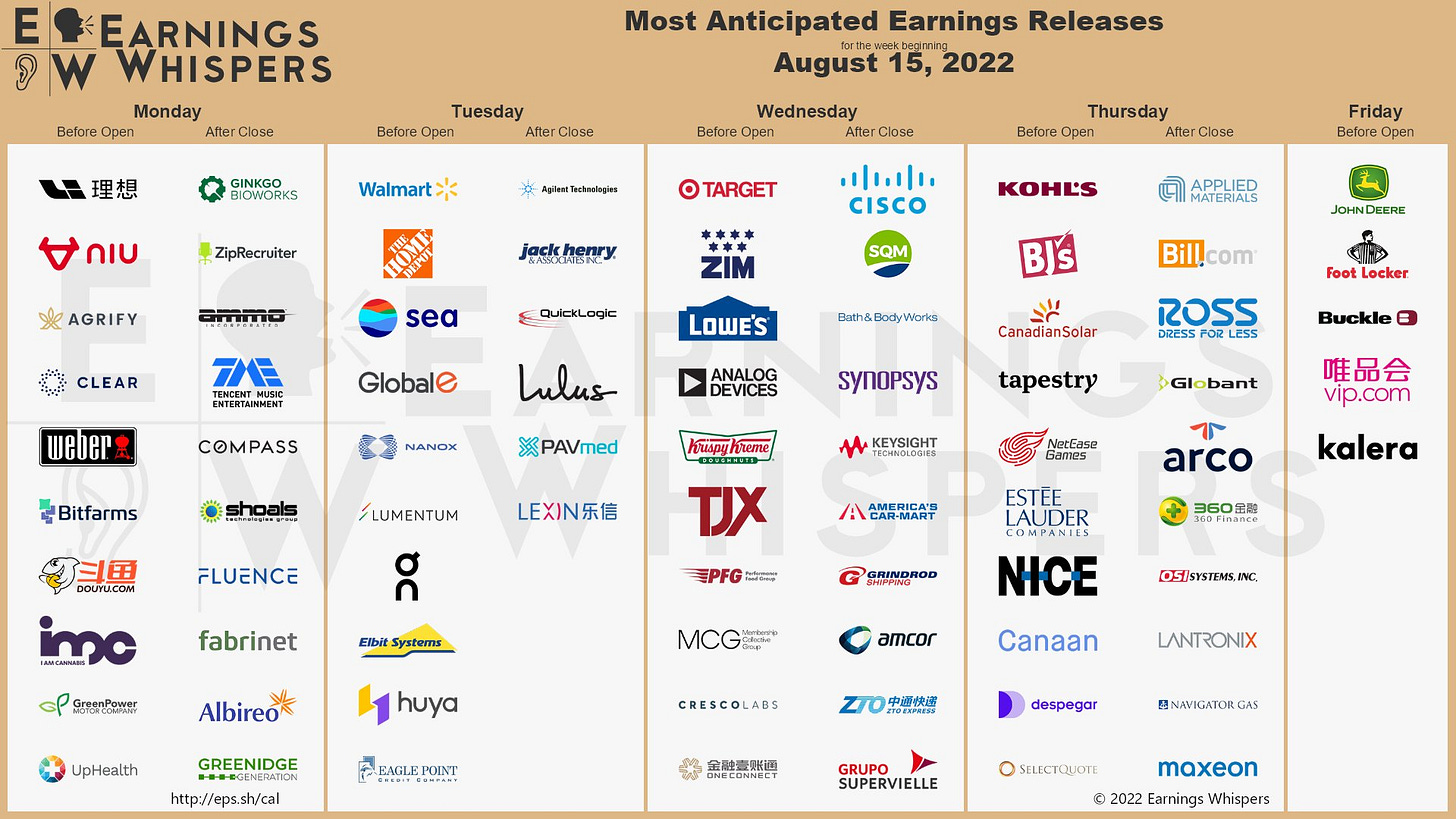 Source: Earnings Whispers
Stocks to Watch for Tuesday 8/16/2022
Bed Bath & Beyond (NYSE: BBBY)
Revlon (NYSE: REV)
Walmart (NYSE: WMT)
Target (NYSE: TGT)
Lowes (NYSE: LOW)
Bed Bath & Beyond (BBBY)
BBBY is still the main play on my radar. Volume hit 164 million shares on Monday (nearly twice the float). I'm buying more during market open today. My EOW price target is around $20.
Revlon (REV)
I mentioned REV stock last week and the stock soared on Monday in a similar short squeeze fashion. Right now, I'm so focused on BBBY that I don't have any other stock options plays.
We'll see how REV finishes the week but it's another short sqeeze target.
Walmart (WMT)
Walmart posted a good earnings report, which is a good sign for the entire retail industry. That means both Target (TGT) and Lowes (LOW) should do well in their upcoming earning reports.
Advertisement
Fees:

$0 (65 cents per options contract)

Promotion:

Up to $600 in Transfer Bonuses

Promotion:

Up to 12 free stocks valued $30,600
Target (TGT) and Lowes (LOW)
Target and Lowes both report earnings on Wednesday before market open. We will get more crucial information about the state of the US economy.
Both of these stocks are potential call options targets since Walmart beat earnings and revenue expectations.
What's Next?
I'm buying more BBBY and hoping for a higher pump as we head towards midweek.