Prosper.com Overview
Founded: 2006
Total Members: 1 million
Total Loans Funded: $226 million
Average Loan Amount: Between $2k to $25k
Better Business Bureau (BBB) Rating: B+
Prosper.com is a website that allows people to get involved with peer to peer lending as either a lender or a borrower. The website was co-founded by Chris Larsen in 2006 and he also founded ELOAN. The website currently has more than one million borrowers and investors and more than $226 million dollars has been issued in loans to borrowers.
Click Here to Get Your Loan Rate Now
What Is Peer to Peer Lending?
Peer to peer lending is a situation where individuals, not banks lend money to other people that are in financial need. These lenders do charge money on the principal that is borrowed. This is how these lenders benefit from the arrangement.
This type of lending is favorable to people with fair to good credit ratings. This is because they are more likely to be approved for this type of loan and will get a more favorable interest rate on the principle that is borrowed because they do not have to have to deal with a financial institution.
Benefits of Peer to Peer Lending Explained
The Prosper.com Team showed up at Google Techtalks to explain exactly how and why peer to peer lending is so economical. You can watch the entire hour long presentation below:
httpv://www.youtube.com/watch?v=hGq3hv1RTao
Requirements for Borrowers
Individuals that wish to borrow money from Prosper need to meet a few requirements. These are: a source of income, valid checking account, and a credit score of at least 640.
How Does Prosper Work?
There's a simple 3 step process to apply for a loan:
Borrowers choose a loan amount, purpose and post a loan listing.
Investors review loan listings and invest in listings that meet their criteria.
Once the process is complete, borrowers make fixed monthly payments and investors receive a portion of those payments directly to their Prosper account. (Source:Prosper.com)
Click Here to Get Your Loan Rate Now
How Money is Lent through Prosper
Money is lent through Prosper.com is a very unique way. A borrower will write a listing about the loan that they need. Borrowers can ask for a loan of $2,000 to $25,000 dollars. They can include recommendations from friends, family members, and their community in the listing.
This helps investors see how authentic borrowers are before they issue them a loan. It adds a more personal touch to the peer to peer lending process which is a unique thing when dealing with money.
One Loan is Made up of Many Little Loans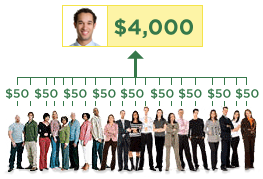 If your loan is big enough, hundreds of people will lend you the money at once. The most common loan is around $50 to 100.
Benefits of Investing with Prosper
Investors can make more than ten percent on the amount of money that they lend to borrowers through the website. The process is fairly straight forward, each month when a borrower makes a payment on their loan, the money is deposited into the linked checking or savings account that the borrower has provided.
The initial sign up process can be done completely online and takes about five to ten minutes to complete. Investors can choose to fund one loan or multiple loans through the website. Investors come together and fund parts of loans that have been requested by borrowers. Investors can contribute a minimum of twenty five dollars to each loan listing that they like.
Favorable Interest Rates for Borrowers
Prosper.com is offering great interest rate for borrowers. Borrowers can expect to get an interest rate of 5.9% to 35%. The borrower rates depend on the Prosper rating that is issued to the borrower this rating is an estimate loss rating. The rating is based on overall risk which is assessed based on the borrower's overall credit score and other financial information. The best Prosper rating is AA and the worst rating is HR.
Click Here to Get Your Loan Rate Now
Prosper Security: Is Prosper Safe?
Many large corporations are often victims of identity fraud due to the large informational databases they manage. Luckily, Prosper is protected by Truste Certified Privacy, the #1 online privacy company in the world. Truste also protects websites like Facebook.com and BestBuy.com. This is a good sign that Prosper takes your personal security very seriously and so far has zero identity theft complaints. Prosper Marketplace, Inc. is registered with the San Franscisco Better Business Bureau and received a B+ rating.
Pros and Cons of Using Prosper
Things I Like
One of the best things about Prosper is how easy the registration process is. The entire process is done online and is very easy to understand. The search tools that Prosper provides make finding a lender easy.
The funds process is very quick; borrowers can expect to get their money deposited into their checking account in fourteen days or when it is fully funded. Most borrowers get their loans funded within a few days so the process is very quick which is a great advantage for borrowers because banks can take weeks to release the funds that they are lending.
Things I don't Like
A major downside to Prosper is that in most instances they will not lend money to consumers with a credit score that is less than 640. The economy is very bad right now so many people have poor credit scores and cannot secure loans through financial institutions. Peer to peer lending would be a good option for them but they still may not even qualify for this. The website will still allow people who fall into this category to create a listing but they will still have their credit score run so the listing may end up being deleted.
Closing fees have become an issue for borrowers with Prosper. Fees of 0.5% are charged for closing costs for AA rated borrowers. A and B rated borrowers will pay three percent for these fees and those with a Prosper rating of C or below will pay 4.5% for these fees. The money is subtracted from the amount of money that is loaned to the borrower before the funds are released.
Problems With Prosper
One problem with Prosper has been that they do not try and collect the money that is owed from delinquent borrowers. This has angered many investors who want their money back. The default rate for Proper has increased over time.
Another issue that has become a problem is updating personal information through the website. Both investors and borrowers have had issues with updating their addresses. The company asks them for copies of utility bills and other documents to be faxed to them in order to update their contact information.
Many potential borrowers are having issues with getting pre-qualified for Prosper because of the fact that their Experian credit scores are too low. The three credit reporting bureaus are known for having differing credit scores for consumers.
Final Recommendations
Prosper.com is a great peer to peer lending website for people who have a good credit rating. It is also a great place for individuals to invest their money because they can lend it directly to someone and in most instances the money will be re-paid with interest. In a bad economy, it is hard for consumers to invest in stocks and bonds because they often lose their value so the initial investment ends up being wasted.
Prosper is an easy to use website which makes the peer to peer lending process much easier to navigate through. The website takes a lot of time and paperwork out of getting a loan which is great for consumers who no longer want to deal with banks and other financial institutions.
Read More: Sharebuilder IRA Review
Click Here to Apply for a Prosper Loan Now