3 Reasons Why Telsa Stock (TLSA) Is Still A Good Buy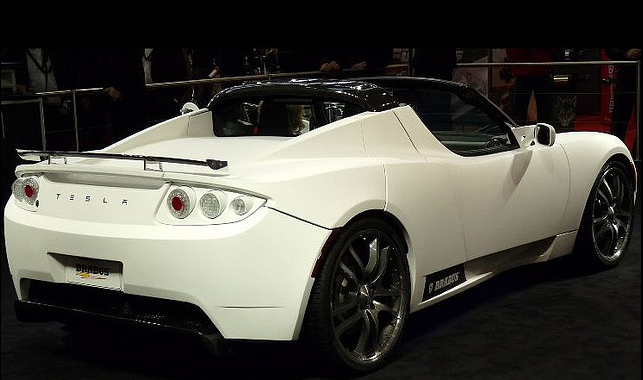 "Is Tesla still a worthy investment?," asked a friend of mine who read my article which I wrote back in June of last year.
A lot has happened since then. Tesla stock has doubled in price and Elon's presence in the media is omnipresent. This guy is one of the smartest entrepreneurs around. And, Tesla has started selling in the largest car market — China.
Despite the incredible run for the past eight months, I believe that Tesla remains one of the best investments for the future. It is definitely a bold prediction for the scary souls but I am betting on the brilliance of Musk's vision to bring a radical change in the world dominated by the Internal combustion engines run by gasoline.
Tesla remains one of the most shorted stocks on the Wall Street. And, shorts are living painful life for the past year or so. While the car looks stunning and Musk's vision is bold, I am making my predictions on various factors that I consider important for a great investment.
1. Supply vs Demand
While most of its nemesis are losing value, a recent article suggests that a used Tesla costs more than a brand new car. This is a testimonial of growing consumer love for this car. It also proves that Tesla's problem is not to find ways to sell cars but rather how to make more cars for the growing consumer base.
2. Musk's vision
Media has tagged Elon Musk as an elitist who talks about ideas that are beyond comprehension for most of us mere mortals. He talks about hyper loop connecting San Francisco with LA and he dreams to build a colony on the Mars. Indeed these are big dreams but he is cognizant about the reality that Tesla won't survive simply by catering to the rich. It has to find ways to build cars for the masses as Henry Ford once did a century ago.
His vision is simple yet profound:
1. Build sports car
2. Use that money to build an affordable car
3. Use that money to build an even more affordable car
4. While doing above, also provide zero-emission electric-power generation options
He knows that Windows wasn't household product in its first two releases. Apple I and II never lived long before Macintosh captured hearts of millions. He is precisely following the history by working on several revisions of Tesla cars including roadster and Model S to build car that all of us can afford. That car will sell in $30,000 range.
I have no doubt that he will execute on his vision to build affordable car in few years.  Although company is not making much profit, revenue is soaring and it will keep soaring in the next five years.
3. Trend is your best friend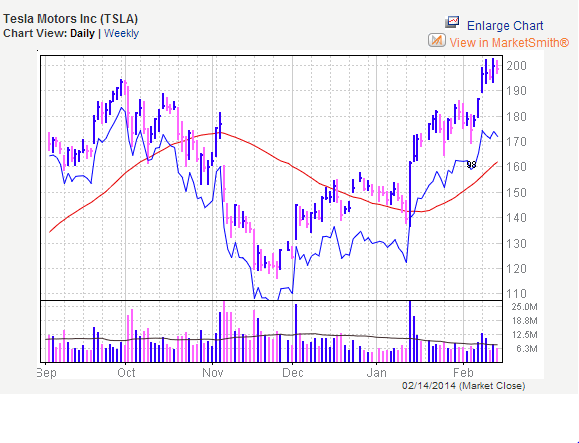 Tesla has had an incredible stock price run in the past year. It has low float(meaning less number of shares outstanding in the market).
Tesla has an impressive sales growth of 761% last quarter vs the same quarter a year ago and a composite 132% sales growth for the past three years.
The company reported selling 6900 Model S. This is 20% over the previous forecast of 6000 Model S cars.
In addition, gross margin is improving steadily every quarter.
The stock can pullback in the short-term but the trend is bullish and stock can have another leg up if Tesla can beat the estimate on February 19th.
Elon Musk has hired Gilbert Passin, VP of Manufacturing, who is considered a wizard. Passin used to work for Toyota and Volvo. Passin's job was to create his own team, his own plant and his own manufacturing process — from scratch in an old Toyota plant in Fremont, CA that Musk bought with a Federal loan.
Passin and Musk have so far delivered on their dream to build a new car company unlike any other Electric Vehicle maker. The stock can go in any direction in the near future considering its hyperbolic run.
Disclaimer: I am not a stock broker or a trained investment adviser. I just write this to share my thoughts about investment, so please make your investment only after seeking advice from a trained professional.
Source: Street Smart Finance
---
Subscribe to InvestorTrip
---